Last week it was future Hall of Fame strong safety Troy Polamalu announcing his retirement from the National Football League. And now, today, Polamalu's long-time teammate Ike Taylor has announced that he'll be hanging up his cleats as well.
The 34-year old cornerback came into the league back in 2003 with Polamalu, being selected by Pittsburgh in the fourth round (three rounds after Polamalu was taken off the board by PIT). The two defensive backs spent 12 seasons together, anchoring Dick LeBeau's strong defensive unit for over a decade, and helping the team capture two Super Bowl victories in three appearances.
Combined stats/accomplishments of Troy and Ike: 1,406 combined tackles, 15.0 sacks, 46 interceptions, 16 FF, 4 TDs.
Here are some of the biggest Troy Polamalu and/or Ike Taylor moments from 2003-14 (in no particular order):
Polamalu: one-handed INT vs. Tennessee
Taylor: 24-yard INT return in Super Bowl vs. Seattle
Polamalu: diving INT vs. San Diego
Taylor: Knocks Dolphins QB Pat White out of game
Taylor: forced-fumble vs. Mark Sanchez and Jets in AFC Championship
Polamalu: Basically any of the numerous times he jumped over the offensive line at the snap of the ball
Polamalu: Game-Sealing Interception TD in AFC Championship
Polamalu: Strip-Sack of Baltimore QB Joe Flacco
Polamalu: Diving INT vs. Philadelphia Eagles
Polamalu: INT TD vs. Carson Palmer and Cincinnati Bengals (Troy's former roommate at USC)
Polamalu: Fumble Return TD vs. Brett Favre and Green Bay Packers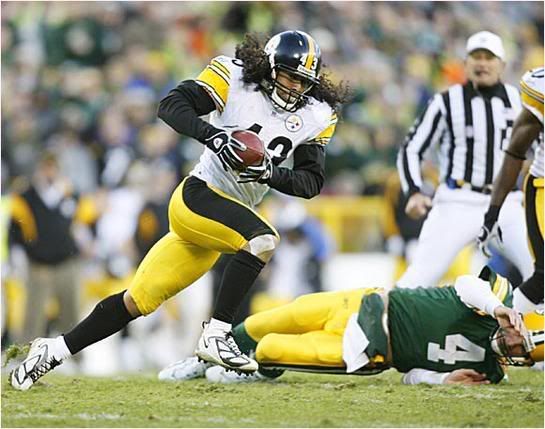 Obviously most of these highlight-reel plays belong to SS Troy Polamalu, but that doesn't mean Taylor wasn't an integral part of Pittsburgh's defensive unit throughout his 12 seasons. He, in fact, was one of the most consistent performers in the secondary over that span, and shutdown top-tier receivers on a weekly basis during the prime of his career.
Photo: Getty Images
Related Posts
« Report: Steelers SS Troy Polamalu to Retire After 12 Seasons Arena Football League: Week 4 Power Rankings »